Robert C. Rosenberg Memorial Fund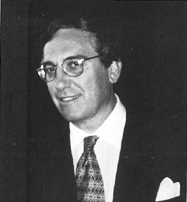 Robert ("Bob") Rosenberg devoted his entire career to public finance law, which he began practicing when he joined Hawkins Delafield & Wood in 1967, where he became partner in 1974, and served on the Management Committee for fifteen years. He mentored many of the current partners at the firm, which carries his great legacy of collaborative spirit and strong ethics. Bob passed away on December 5, 1996.
During the course of his long and distinguished career, Bob Rosenberg represented and counseled state and local governments, and public agencies throughout the country. He represented the New York City Industrial Development Agency from its inception in 1973, and at various times served as bond counsel to the states of Maine, West Virginia, New Jersey and the Government of the Virgin Islands, in addition to local public authorities. He also represented virtually every major investment banking firm. He conceptualized, structured and developed many new programs which became the industry standard.
For Bob Rosenberg, government officials and bankers became clients, and clients became lifelong friends. He had an amazing ability to inspire dedication and loyalty from those who worked with him, and to inspire confidence in his legal judgment, advice and integrity.
Bob Rosenberg was privileged to serve on the Board of Governors of the Municipal Forum of New York. Upon his death, the Partners at Hawkins Delafield & Wood LLP honored him by establishing the Robert C. Rosenberg Memorial Fund to provide scholarships to students involved with the Urban Leadership Fellows Program. The program, sponsored by the Municipal Forum and its partners, was one of the things that he cared for greatly.
To make a tax-deductible contribution, please use the PayPal link below: